Dear friends of the world wide web, Christmas is almost here and I find that truly exciting. I don't know why I keep being so thrilled about this time of the year, I guess I still remember the feeling I got when I woke up to find all the presents under the tree. Plus, Christmas lights are awesome (if they're done right). So I asked a good friend of mine who's living in London (and who, coincidentally, took me to tons of places I talk about here) to do a guest post about Christmas in London! Since there are so many (awesome) pictures, they don't show in this main page but click on 'Read more' under the first picture below and you'll see it all!
Clara asked me to do a guest post on her blog, so I figured it might be a good idea to feature one of our favourite subjects: Christmas! Holiday decorations started super early this year (Selfridges Christmas deparment has been open since August. Wat.) so that gave me plenty of chances to document some of London's prime Christmassy hotspots in both photo and animation form. Here we go!
First up: Oxford Street. The big one. There are several stops you can make on this street to spot some amazing window displays and Christmas lights, but the best one I think is Selfridges: famous for its window displays, pretty much pulls out all the stops when it comes to all things Holiday (their Christmas section has been open since August! Wat) In my opinion it's even better than Liberty when it comes to present buying too: they have everything. (I still love you the most though Liberty)


Tiger party in the window: this is relevant to my interests
Oxford Street itself is pretty impressive when it comes to Christmas lights. Over the last few years they're become a bit -too- sponsored for my tastes (with movie promotions hanging all over the place) but there's still some nice bits hanging around like presents and umbrella's.
Near Bond Street station at night
Next stop: Regent Street! A bit fancier but filled with amazing Christmassy vibes nonetheless. One of my favourite Christmas windows on this street belongs to Hamley's: every year they seem to go all out with their Christmas windows with super cute animatronic sets and of course dozens of toys. This year they went with a Teddy Bear theme:
One of their moving sets featured a set of Teddy Bear carollers:
Just look at that little bear rocking out to the music of Christmas
You can pretty much spend ages here looking at all the little details they put in. Like these kittens....waiting for mail?
Maybe they're expecting cat food samples
Now on to the third, final and (in my opinion), best stop when it comes to Christmas lights: Carnaby Street! Just don't forget to pop into Liberty on your way there.


Pretty amazing eh? Carnaby Street has a new theme every year, last year it was some kind of 60s inspired balloon display, this year it's SPACE! I don't know why or what Space has to do with Christmas (although I do check
Norad's Santa tracker
every year on Christmas eve and he does seem to visit space, so who am I to argue with cold hard facts), but I wholeheartedly approve! The main street itself is decorated with planets and dolls, like astronaut reindeer:
I like how his antlers fit through his space helmet
and space Santa's:
Sunglasses on the moon. Does that make them moonglasses? Ho ho ho.
The planet constellations are featured in several streets. All of them seem to revolve around...Venus? Not very accurate, but who cares, they move!
Space is the place
So this is by far my favourite. Part of Carnaby Street and pretty impressive itself is Kingsly Court: it doesn't have a set theme but it's pretty much -draped- in lights. So much that I couldn't even take a proper picture of it. Just check out the ceiling: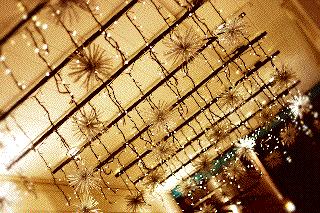 To still give you a small impression, here's an animation of one of the passageways leading up to it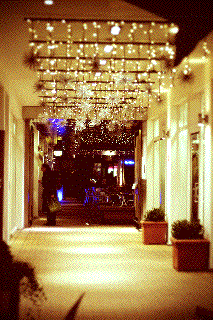 Just so you know: that man was checking out the window displays, not the lady.
See those tiny sparkly lights in the background? Yeah, that's about 100th of the entire thing. You can go see for yourself, eat crepes there and shop at indie boutiques, check out a bit of space, you'll love it.
Okay so this concludes my animated (get it? animated? HAH why do I not have my own comedy show yet really) report on London and some of its Holiday delights! I hope you enjoyed it and get a chance to see all of these amazing London spots for yourself one day. Happy Holiday-ing!


Yours truly